Encourage and Promote Replication
Our 25-plus years of experience in the carpet sector have yielded a holistic system that leverages consumer choices and business and community partnerships  toward the ultimate goal of freeing children from bondage—giving them a chance to lead normal lives filled with school, play, and family. We are now testing our work in five new sectors, aiming for rollout in each new product category where transferability is proven. We are implementing pilot projects in apparel, fashion jewelry, home textiles, tea, and bricks.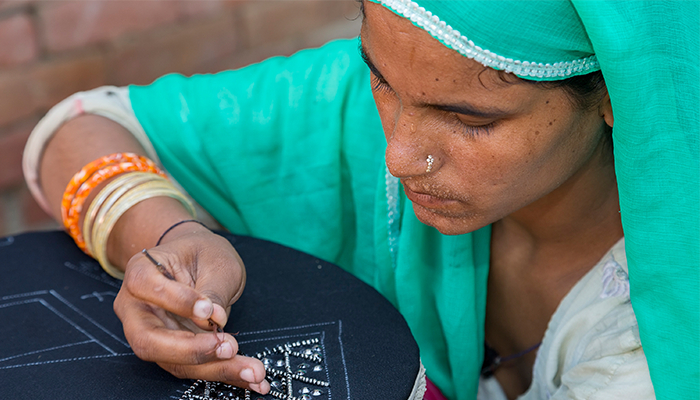 Spreading Success
In countries like India, Nepal, and Afghanistan—where production is typically decentralized and subcontracted—our success in reducing child labor and rescuing children relies on the ability of our inspectors and partners to gain the trust not only of workers, but also of business owners. Producers know that by following our Certification Standard they are helping children and the community at large, while improving their own bottom lines as they attract new business, avoid liability, retain employees, and increase productivity. Already, we have partnered on a successful pilot program within Nepal's brick-making industry to test the transferability of our model—and the results are clear: it's time for us to scale up and spread out. In the years to come, we plan to expand our mission beyond the rug-making sector to tackle child, forced, and bonded labor in a number of other sectors, including the apparel, textiles, and tea industries. Our model has been tested and modified many times over the last two decades. Along with many human-rights agencies and international observers, we are certain that it contains the right ingredients for effecting substantive change across multiple regions and sectors.
A Global Effort
The International Labor Organization estimates 152 million children are working when they should be studying in school, playing with their friends, or spending time with their families. Our ultimate goal is to see that number come down to zero. With this goal in mind, we are actively encouraging the adoption of our model by other organizations and governments, and working closely with both to make such adoption easier. The next phase of GoodWeave's development will see us doing just that: taking what we've learned about how to fight one of the most inhumane practices on the planet, and sharing that information with those who have demonstrated the same willingness to see it wiped out—everywhere, and forever. We've shown the world how it can be done. Now it's time to do it.
APPAREL

Apparel companies can learn about what's taking place beyond factory walls in hidden supply chains to address systemic issues causing child, forced, and bonded labor in the ready-made garment sector in Northern India. Through a unique program that links your tier one audit system to GoodWeave's deep supply chain due diligence, remediation, and prevention process, you'll be able to identify potential issues in your production and put in place measures to ensure your supply chain is free of all forms of worker exploitation. The end-result is a high level of assurance against child labor, protection for thousands of apparel workers, and education for their children—the best form of prevention.

In August 2020, we launched a new project that applies GoodWeave's holistic system to the apparel sector in Bangladesh through a local partner. The project is funded by the Vulnerable Supply Chains Facility (VSCF), a rapid COVID-19 response fund set up by the UK Foreign, Commonwealth and Development Office (FCDO), and managed by Mott MacDonald Ltd. 
HOME TEXTILES

Northern India is home to a flourishing home textiles industry supplying retailers around the world with pillows, throws, poufs and other soft home goods. This industry relies on extensive outsourcing of informal labor, with exploitative practices similar to those found in rug supply chains. Capitalizing on our more than 20 years spent transforming the rug-making industry, we have launched pilot program that leverages our organization's existing infrastructure, including our expert team and strong community relationships, toward the goal of establishing a commercially viable certification program for home textiles.
CAPACITY BUILDING UNIT

GoodWeave's Capacity Building Unit (CBU) is a special division within the organization designed to train other organizations in modifying and implementing our model for ending exploitative labor in supply chains. We know enough to realize that we can't possibly end these practices on our own. Overcoming these problems will require the concerted efforts of governments, NGOs, and the business community working together to develop and borrow the best ideas and adapt them to different sets of circumstances. Instead of protecting the GoodWeave system from those who would try to copy it, we're actively seeking partners who want to build on our proven success—and to amplify it. Inaugural projects of the CBU include partnering with the Rainforest Alliance to help eradicate child labor from Indian tea production. We are also partnering on Better Brick—Nepal, an initiative to transform Nepal's brick industry by eliminating child, forced, and bonded labor. Through Better Brick–Nepal we incentivize kiln operators to improve conditions for workers through access to better production techniques, stronger operations, and the creation of a market for ethically produced bricks.