GoodWeave Approach Reduces Child Labor in Home-Based Carpet Production in Afghanistan Over Five Year Period
November 16, 2018
GoodWeave International, the leading organization with almost 25 years of experience working to end child labor in global supply chains, today released its external evaluation report summary which highlights the effectiveness of its approach to reducing child labor and increasing the number of children enrolled in school in Afghanistan, especially girls.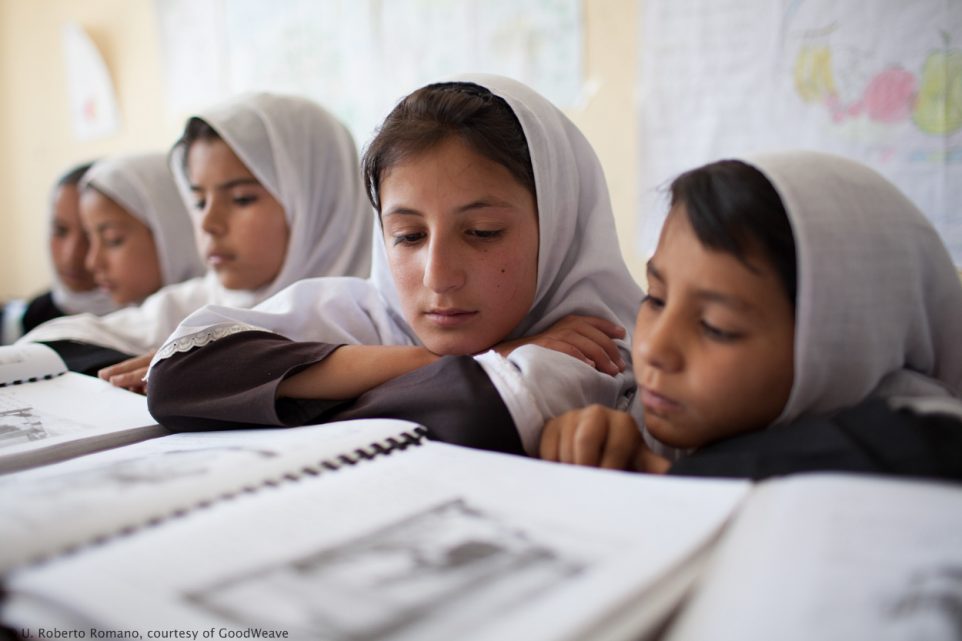 The report entitled, "Preventing Child Labor in Home-Based Carpet Production in Afghanistan," was prepared by Afghan Australian Research and Management Consulting (ARM Consulting), and is the product of a rigorous independent evaluation of GoodWeave's programming in the country from 2013-2018.
In Afghanistan extreme poverty and societal perceptions drive some 675,000 children between the ages of 5 and 14 into labor, denying them education and a chance for a better life.
Steadfast in its vision of a world free of child labor, GoodWeave welcomed the report.
"Our pioneering system has the potential to bring about global action to end child labor," said GoodWeave CEO Nina Smith.   "We bring visibility to the lowest levels within supply chains where the most marginalized work, and then we bring solutions that have impact.  Education is key to stopping the pattern of intergenerational illiteracy, poverty and child labor."
The evaluation concluded that GoodWeave's program reduced child labor in the targeted communities — Kabul, Balkh, and Jawzjan — in direct correlation to the increase in beneficiary children attending school.  The report also documented how GoodWeave's work has raised public awareness among government, communities, and parents that increased support for the importance of education.
For example, the results show a marked shift in parental attitudes about the importance of their children's education.  Forty percent of parents who previously did not see education as a right for their children now do so.  When GoodWeave began working in these communities in 2013, 77 percent of parents believed that sending a child to school negatively impacts a household's income, but in 2018, only 11 percent of parents share this view.  School enrollment increased by 53 percent for girls and 31 percent for boys, demonstrating how attitudinal changes inspire social change.
One such parent from Kabul Province is "Qurban", a father of eight daughters ranging in age from eight to seventeen.  Reluctant at first to allow his daughters education, he agreed to allow GoodWeave to establish a home-based education program.  Three years later he allowed his daughters to attend public school, bringing their learning levels to age appropriate classes.  Said one daughter, "I am very glad to be at school where I learn more and make new friends.  I would like to continue studying and go to college one day."  She thought this day would never come.
These positive outcomes took place in a region with low levels of children's school enrollment and against a backdrop of a challenging environment of insecurity, instability, and stagnation.
The "Preventing Child Labor in Home-Based Carpet Production in Afghanistan" project was funded by United States Department of Labor's Bureau of International Labor Affairs, Estelle Friedman Gervis Family Foundation, The Khaled Hosseini Foundation, The International Foundation, West Foundation, Dining for Women, and Equitable Charitable Trust.
Over the almost 25 years of harnessing market power through its work with brands and producers, GoodWeave has rescued over 6,700 children from labor, provided quality education to almost 26,000 rescued and vulnerable children, and deterred hundreds of thousands of children from entering labor.  In 2018 alone, more than 75,000 workers are benefiting from GoodWeave's efforts.
Most recently, GoodWeave has expanded into apparel, home textiles, fashion jewelry, bricks, and tea where its reach and impact continue to grow.  GoodWeave's impact goes beyond reach numbers as it has been a leading voice in positively influencing societal norms and behaviors to eliminate child labor.
About GoodWeave International
GoodWeave – a nonprofit organization founded in 1994 by Nobel laureate Kailash Satyarthi – is the leading global institution with a mission to end child labor in global supply chains through a market-based holistic and authentic system. We bring visibility to global supply chains, give voice to informal and marginalized workers, provide assurance that certified products are free of child labor, and restore childhood to vulnerable children so they can laugh, learn, and play.