Nasima's Transformation From a Painfully Reticent to a Proudly Participating Student
May 12, 2017
Nasima was only three years old when she was enrolled by her father in the GoodWeave-administered Shahrak e Qalin Bafan (SQB) daycare, in Afghanistan's Balkh province, in April 2014. Back then, she was so shy that she had difficulty speaking in front of anyone—even her own mother.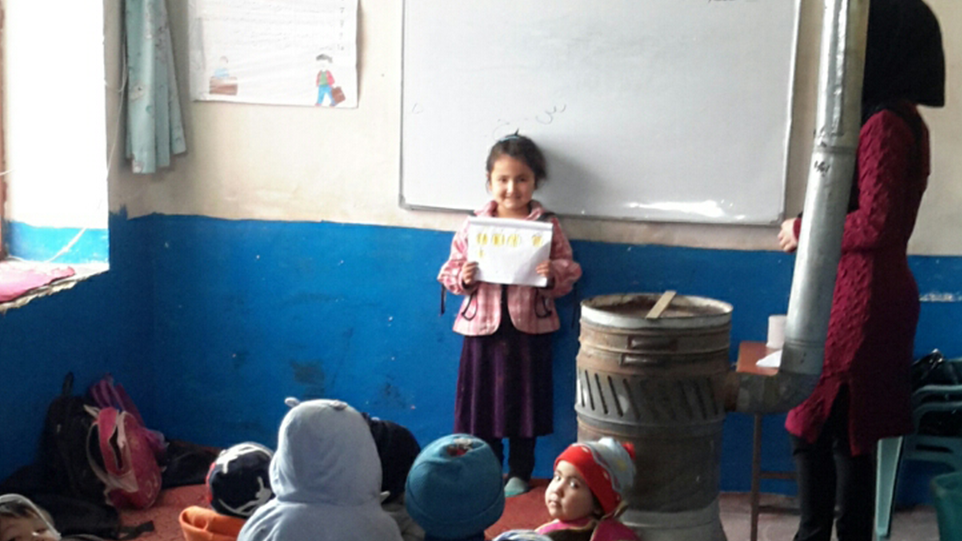 Today, however, the six-year-old Nasima gamely recites poems in front of her entire class. When she grows up, she wants to be a teacher. Her transformation from a painfully reticent to a proudly participating student is a direct result of the care and guidance she has received at SQB, which was created as a resource for home-based weavers and other workers with small children. There, parents can be assured that their children are learning, playing, and being cared for in a safe and nurturing environment, allowing the parents to work without distraction and with peace of mind.
Nasima's father, a daily wage worker who weaves carpets never received an education, and regretfully acknowledges his own illiteracy. It's part of what drives his deep wish that his daughter become an educated woman, and grow up to help herself—and even her country. "It's a dream that will hopefully come true one day," he says with undeniable optimism in his voice. "And what has given me this hope is GoodWeave."
Since starting daycare, Nasima's development, both socially and academically, has been remarkable. "Two years ago, she would sit in one corner of the room and not say a word to anyone the entire day," says one of her teachers. Now her days are filled chatting and playing with her many new friends—and learning how to speak and read Dari, the Persian dialect that is prevalent in Afghanistan, but which Nasima, whose father is from Turkmen descent, never learned to speak. Nasima's father says that he knows well how difficult life can be without the benefit of an education. He is determined to avoid subjecting his children to the same fate that marked his own upbringing. "There is no other daycare center anywhere nearby," he says, adding that even if there was, the costs would likely make it out of reach for him and other wage-worker families. GoodWeave, he says, has allowed him to realize his dream of giving Nasima a real chance at a better life.