Women Workers Exercise Their Right to an Education
June 7, 2017
It seems the desire to get a basic education, no matter what age, is infectious.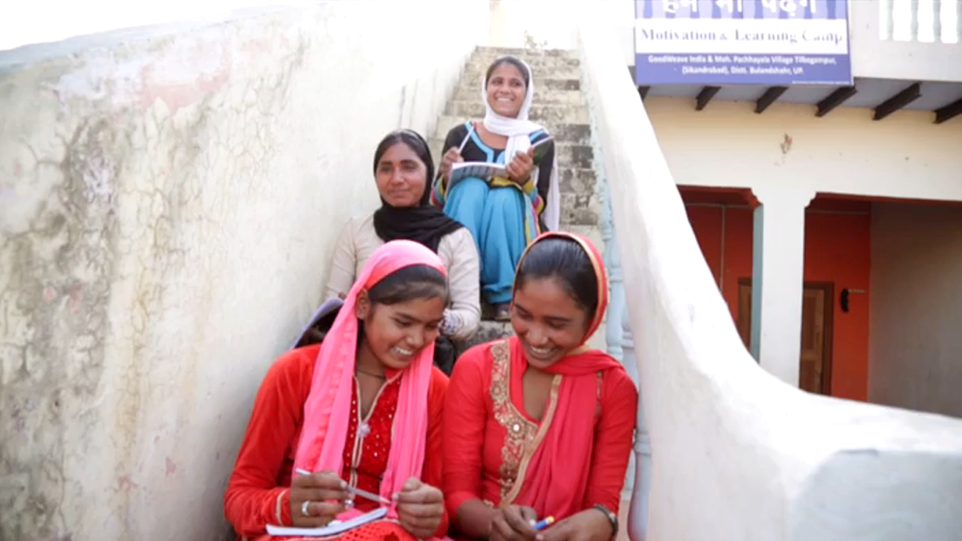 In Jaee village in India's Uttar Pradesh state, a community of textile and apparel workers, is partnering with GoodWeave to elevate their rights and bring quality education to their children. Ordinarily our Child-friendly Community program focuses on ensuring learning for kids between four and 15. But in Jaee, a motivated group of young women approached GoodWeave's community facilitator named Sadiya to organize a class for them and their friends.  The interest grew steadily and now 20 young women ages 16-30 attend the class every day – something unprecedented in the village.
"Initially all they did was laugh at one another when any of them made a mistake related to pronunciation," said Sadiya.  "Now they've started seeing how important it is, from being embarrassed of using a thumb impression on wage documents to signing their names – they believe they've come a long way."
Indeed, one of the students, 30-year-old Mofida, just went through a challenging divorce. Now she connects her education with a sense of empowerment. "I thought I would never actually get a chance to study at this stage of my life, but I was wrong," beams Mofida.
Learn more about GoodWeave's newest program established to stop child labor in the apparel sector.