GoodWeave Celebrates 25 Years of Ending Child Labor in India
June 4, 2019
GoodWeave celebrates 25 years of pioneering and innovating a global solution to end child labor in global supply chains. As part of this milestone, GoodWeave hosted an evening with founder and Nobel laureate Kailash Satyarthi in New Delhi on March 13th. The event will included a discussion with leading voices in industry, government, and civil society.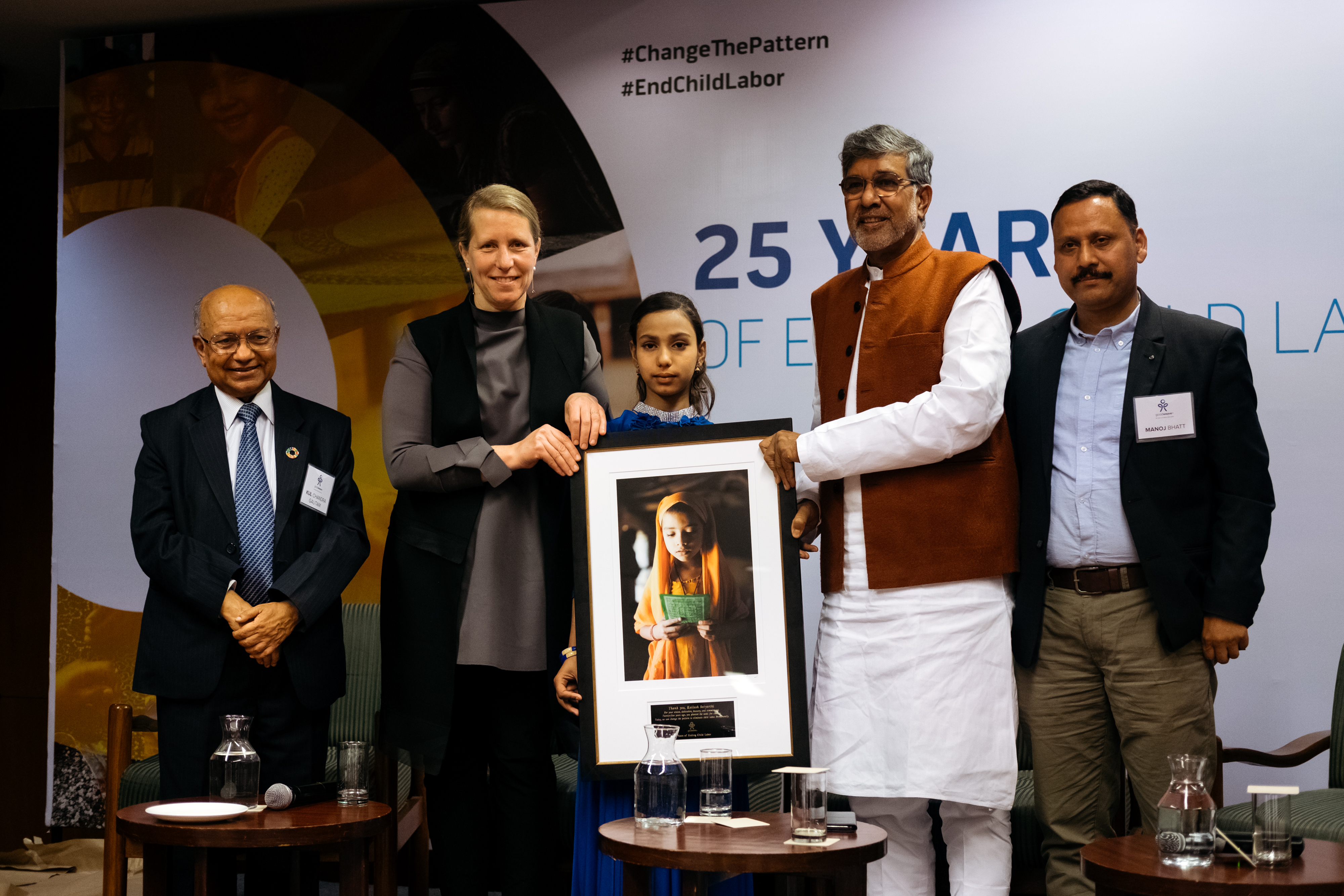 On March 13, 2019, GoodWeave celebrated its 25th anniversary in New Delhi with the board members, stakeholders, and founder Kailash Satyarthi. GoodWeave presented Kailash with an honorary award. Pictured is Kul Gautam, GoodWeave International board member, Nina Smith, GoodWeave CEO, Arshi, student supported by a GoodWeave Child Friendly Community, Kailash Satyarthi, GoodWeave founder, and Manoj Bhatt, GoodWeave India Country Director.
Mr. Kailash Satyarthi founded GoodWeave as the first certification scheme for products made without child labor.  "More than 30 years ago, when I had embarked upon the fight against child labor, it was not even considered an issue worth any discussion. It was accepted as a way of life in India, much like it was in other countries. Today, no country or business or society can throw this issue away." — Kailash Satyarthi.
GoodWeave harnesses market power through its work with brands and producers. It has rescued almost 6,000 children from labor, provided quality education to almost 26,000 rescued and vulnerable children, and deterred hundreds of thousands of children from entering labor.
Founding and current CEO Nina Smith is a galvanizing force in the fight to end child labor. "GoodWeave believes proximity to communities and workers is essential in bringing about change. We are redefining what a supply chain looks like, and in doing so, GoodWeave brings visibility and voice to workers and children in the hidden supply chain where abuses most often exist. These communities are the most marginalized and vulnerable. Our vision is a world free of child labor."
Manoj Bhatt, Country Director, GoodWeave India acknowledges the overwhelming support from the industry, donors, government, civil society organizations, community, home based artisans and the staff. "The 25 years journey was possible because of the remarkable commitment and support of our stakeholders. GoodWeave is proud to have an inspiring board whose leadership shaped the direction to our vision. It is time to celebrate, as there is now a momentum for change within India. The key players have started showing unprecedented interest. Our journey, going forward, will be about larger collaborations at a larger scale to address the issues of child labor and forced labor."
GoodWeave's impact goes beyond reach numbers as it has been a leading force in positively influencing societal norms and behaviors to eliminate child and forced labor.
Media Contact
Bruce Moats, Chief Communications & Impact Officer
+1 202 234 9050
bruce@goodweave.org
About GoodWeave International
GoodWeave – a nonprofit organization founded in 1994 by Nobel laureate Kailash Satyarthi – is the leading global institution with a mission to end child labor, and forced and bonded labor, in global supply chains through a market-based holistic and authentic system. We bring visibility to global supply chains, give voice to informal and marginalized workers, provide assurance that certified products are free of child labor, and restore childhood to vulnerable children so they can laugh, learn, and play.  Look for the GoodWeave certification label.