GoodWeave Congratulates Stephanie Odegard on Winning the 2018 Iqbal Masih Award for the Elimination of Child Labor
March 8, 2019
GoodWeave congratulates Ms. Stephanie Odegard on winning the Iqbal Masih Award for implementing extraordinary efforts that have contributed towards the reduction of the worst forms of child labor. Her commitment to end child labor through her business, Odegard Carpets, has served as a model for others in the South Asian carpet sector. In 1987, she began her carpet business and set a goal of ensuring child labor-free looms, which she accomplished in partnership with GoodWeave. Since that time, she has been a tireless advocate for ending child labor.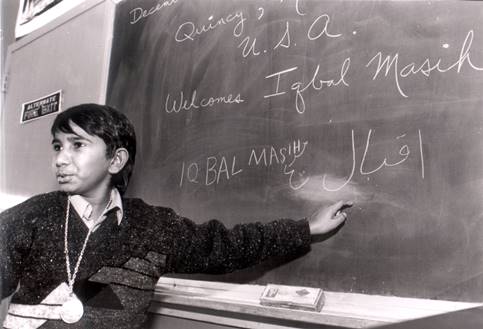 The award is the highest honor bestowed upon individuals who embody the courage, commitment, and leadership in raising awareness and bringing solutions to ending child labor.  The award is U.S. Congressionally mandated and honors the life of Iqbal Masih, a Pakistani child who was sold into slavery as a carpet weaver at age 4 and at the age of 10 became an outspoken public advocate against child exploitation.  After winning the Reebok Human Rights Award in 1994, he was killed a year later because of his advocacy.
"Stephanie is a true pioneer in her work to end child labor in the carpet sector in South Asia, bringing attention to this issue among her industry peers, and inspiring others to act," said GoodWeave CEO Nina Smith.  "This year is GoodWeave's 25th Anniversary, and our vision of a world free of child labor has been tremendously enhanced by the contributions of Stephanie. It was first movers like Stephanie who had the courage to push social norms that fundamentally changed how the world views child labor."
Ms. Odegard joined forces with GoodWeave, and together with 170 other companies, helped contribute to a nearly two-thirds reduction of child labor in the carpet sector in South Asia, the rescue of almost 6,000 children from labor, and education for almost 26,000 children. She also served GoodWeave's founding Board of Directors for 10 years. Under her direction, Odegard Carpets contributed a small fee for each GoodWeave certified rug, totaling more than $500,000 dedicated to ending child labor.
Today, Ms. Odegard is the CEO of Stephanie Odegard Co. Ltd. GoodWeave is honored to have Ms. Odegard as a founding member of our work to end child labor and we are incredibly proud of her winning the Iqbal Masih Award.
Ms. Odegard shares the 2018 award with co-recipient Minister Martinez Acosta of Paraguay.   This year's recipients were selected by U.S. Secretary of Labor Alexander Acosta.
Media Contact
Bruce Moats, Chief Communications & Impact Officer
+1 202 234 9050
bruce@goodweave.org
About GoodWeave International
GoodWeave – a nonprofit organization founded in 1994 by Nobel laureate Kailash Satyarthi – is the leading global institution with a mission to end child labor, and forced and bonded labor, in global supply chains through a market-based holistic and authentic system. We bring visibility to global supply chains, give voice to informal and marginalized workers, provide assurance that certified products are free of child labor, and restore childhood to vulnerable children so they can laugh, learn, and play.  Look for the GoodWeave certification label.