GoodWeave expands in Dutch market to fight child labor in rug sector
October 31, 2022
Focus on child labor due to new legislation and increasing demand for responsible products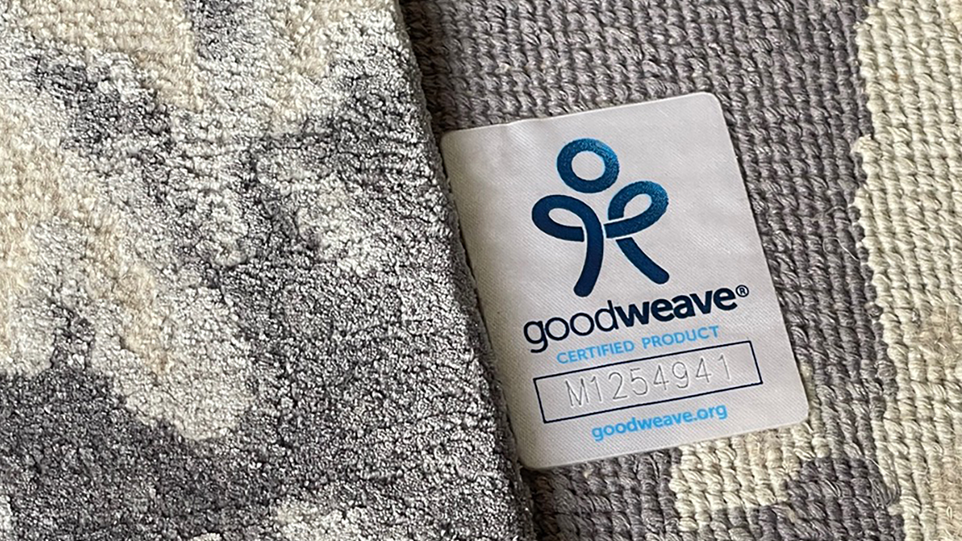 AMSTERDAM – October 31, 2022 – GoodWeave is expanding efforts in the Netherlands and seeking retail and importer partners interested in eradicating child labor in Indian and Nepali rug supply chains. The international organization is responding to the new Dutch law that obliges companies to tackle child labor. Another factor is consumers' growing interest in purchasing socially responsible products.
Founded nearly 30 years ago, GoodWeave International works to end child labor, as well as forced and bonded labor, in global supply chains through its licensing and certification program. In the rug sector, there are currently more than 430 companies in 22 countries partnering with GoodWeave. The urgency to tackle the problem is increasing. The number of children in child labor has risen to 160 million worldwide – an increase of 8.4 million children in four years – and the COVID-19 crisis has exacerbated the risk of child labor further*.
"With new human rights legislation for businesses and the growing number of consumers demanding to know who makes their products, GoodWeave offers needed assurances. Dutch retailers and importers are invited to contact GoodWeave to learn about partnership opportunities." – GoodWeave International CEO Nina Smith
Dutch and European legislation
In 2019, the Netherlands passed the Child Labor Due Diligence Law which requires companies selling goods or services to Dutch consumers to identify and prevent child labor in their supply chains. It is not yet clear when the law will come into effect. In the meantime, work is also being done at a European level on legislation for companies to tackle human rights and environmental violations. GoodWeave can help Netherlands-based rug importers and retailers comply with requirements related to child, forced and bonded labor.
GoodWeave already works with Cunera Vloerbedekking, Woningtextiel en Meubelen B.V., a company that sells GoodWeave certified carpets in the Netherlands, and with Maison Deux B.V., the very first GoodWeave licensee in the Netherlands, which sells premium rugs for family homes globally. Both Cunera and Maison Deux are serving as GoodWeave ambassadors in this effort. In addition, other companies in the Dutch market selling GoodWeave certified carpets include Otto, Vossberg, and AYTM. Each sale of a GoodWeave® labeled rug also supports programs that educate children and improve working conditions for adults in producer communities.
GoodWeave's work is supported by the Fund Against Child Labor, part of the Netherlands Enterprise Agency (RVO), which encourages Dutch businesses to screen their value chain for the risks of child labor.
About GoodWeave International
GoodWeave — a nonprofit organization founded in 1994 by Nobel laureate Kailash Satyarthi — is the leading institution working to stop child labor in global supply chains. GoodWeave partners with companies and local producers communities to bring visibility to hidden supply chains; protect workers' rights; provide assurance that products are free of child, forced and bonded labor; and restore childhoods. Look for the GoodWeave® certification label on rug and home textile products.
To learn more about becoming a GoodWeave licensee, contact Sonny Puryear at sonny@goodweave.org.

*Source: "Child Labor: Global estimates 2020, trends and the road forward", ILO and UNICEF, June 2021
Photo credit: Tania Johnson Design
Contact:
Micaela Vivero
Office: 202-234-9050 ext. 306
PressUS@goodweave.org
Read the Dutch version here.