GoodWeave Teams Up with Grund America to Help Create a Child-Labor-Free Industry
September 6, 2017
North Carolina-based Grund America has joined with GoodWeave to support its ongoing work to combat child labor in global supply chains. Grund America (whose Czech parent company, Grund, is a longtime supporter of innovative social projects in India and Peru) is pleased to partner with GoodWeave to help the advancement of weaving communities and their children. "Now we can guarantee our customers and ourselves that the entire production process is monitored," says Jiri Grund, the head of Grund America.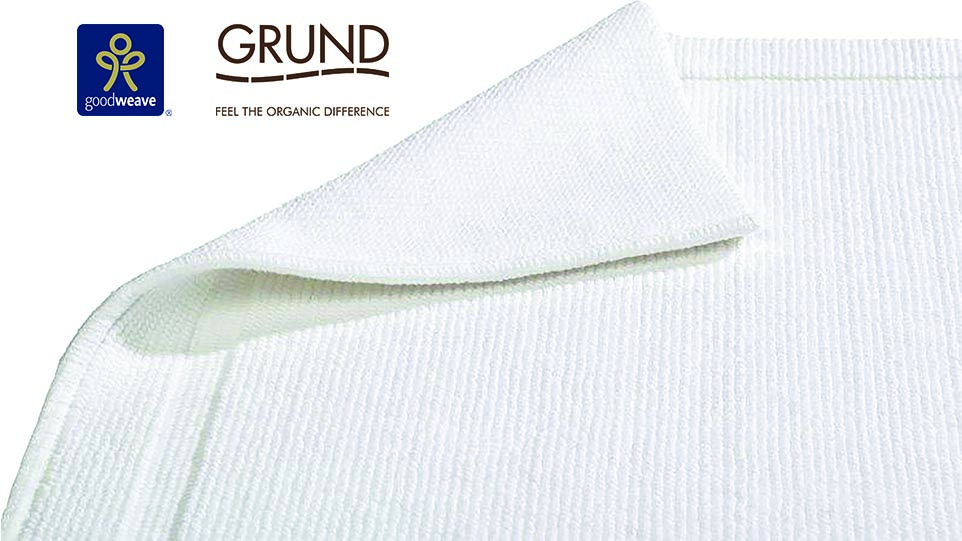 Grund America's first collection of GoodWeave certified rugs is the Charleston series. The handmade Charleston bath rug, a durable looped construction, has a reversible design and is made of 100% GOTS Certified Organic Cotton. The GOTS certification means the process is monitored from cotton field to production to assure that both environmental standards are met and the community of cultivation is treated with respect. "The GoodWeave certification," says Jiri Grund, "is an additional assurance that Grund America can communicate that it takes responsibility for what it produces." The GoodWeave label provides customers with the best assurance that the rug was made free of child labor. The launch of the Charleston bath rug, Jiri continues, reminds us "that one small product can change lives, produce joy and radiate something great."
Media Contact
Cara Hagan
+1-202-234-9050
Cara@GoodWeave.org
About GoodWeave 
GoodWeave works to end child labor in global supply chains, from the producer's hands to the consumer's. Products bearing the GoodWeave label are made by skilled adult artisans under a program that ensures rigorous labor rights standards and that local children are being educated not exploited. Founded in 1995 by Nobel laureate Kailash Satyarthi with a focus on the handmade rug industry, today GoodWeave has brought its system to apparel, fashion jewelry, home textiles, brick-making and soon, tea. GoodWeave has contributed to a dramatic decline in the number of "carpet kids" (down 80%), rescued 3,800 children directly, offered educational support to 22,000 children and protected 57,000 adult workers. The organization has earned both the Skoll and Schwab Awards for Social Entrepreneurship.