Meet Aakash: overcoming child labor and loss with GoodWeave's support
December 28, 2022
Aakash's story is all too common in his home country of Nepal. He is from Makawanpur district, where there is discrimination against the native Chepang people who rarely have access to basic needs, such as education and sustainable livelihoods.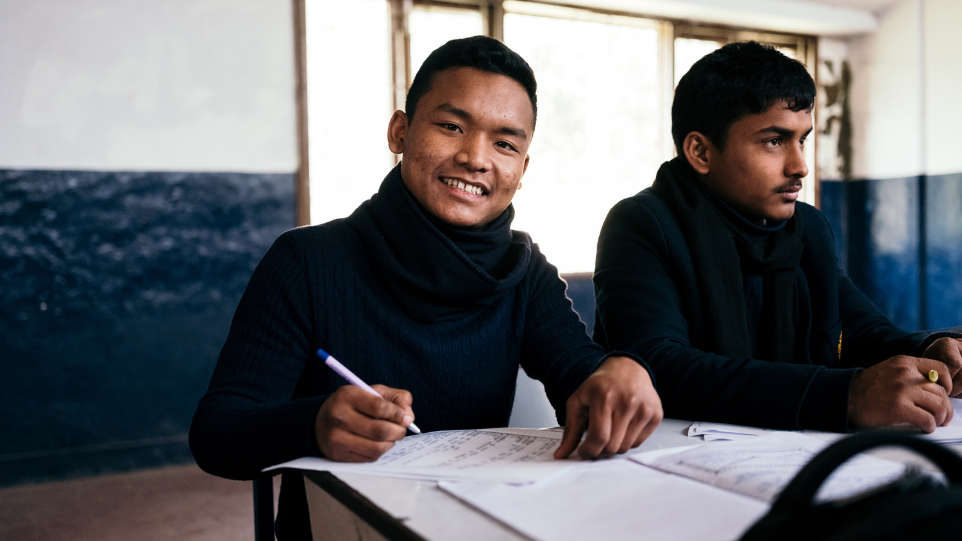 Photo caption: Aakash in class at the Laboratory Secondary School in Kathmandu
From age six, Aakash helped with household chores and looked after his younger brother at home while his mother and father worked in the village to feed their family. These duties prevented him from going to school. This was the family's daily routine until one evening his mother became ill. The next morning, Aakash learned his mother had passed away, which was a huge loss emotionally and economically for the family.
Without his mother to support the family, Aakash and one of his older brothers had no choice but to take up work in hotels washing dishes to sustain the family. When Aakash was nine years old, he and his older brother, who was over 18, went to Kathmandu to work in a carpet factory to pay for the school fees of their younger brother. Aakash worked 15-hour days at the factory for six months.
Fortunately, the export factory became part of the GoodWeave program and a GoodWeave monitoring team discovered Aakash and removed him from the factory in line with GoodWeave's child protection and remediation policies. After discussing a path forward with Aakash and his older brother, who was acting as his guardian, he was enrolled in Hamro Ghar, GoodWeave's home for rescued child laborers, where he received care, counseling and made new friends. And importantly, he started school in a quest for a better life and future than before.
In 2022, Aakash took his Grade 12 final examinations at the Laboratory Secondary School in Kathmandu. Now that he has graduated from high school, Aakash expressed gratitude to GoodWeave. He is currently looking for a job and plans to use the money he earns to continue his studies.
Photo credit: The Studio_M – thestudiom.com