New licensees further expand global reach of GoodWeave certified rug and home textile products
May 5, 2021
WASHINGTON, May 5, 2021 – Over the past year, GoodWeave International has officially licensed seven new companies from around the globe committed to child-labor-free supply chains for their rug or home textile products.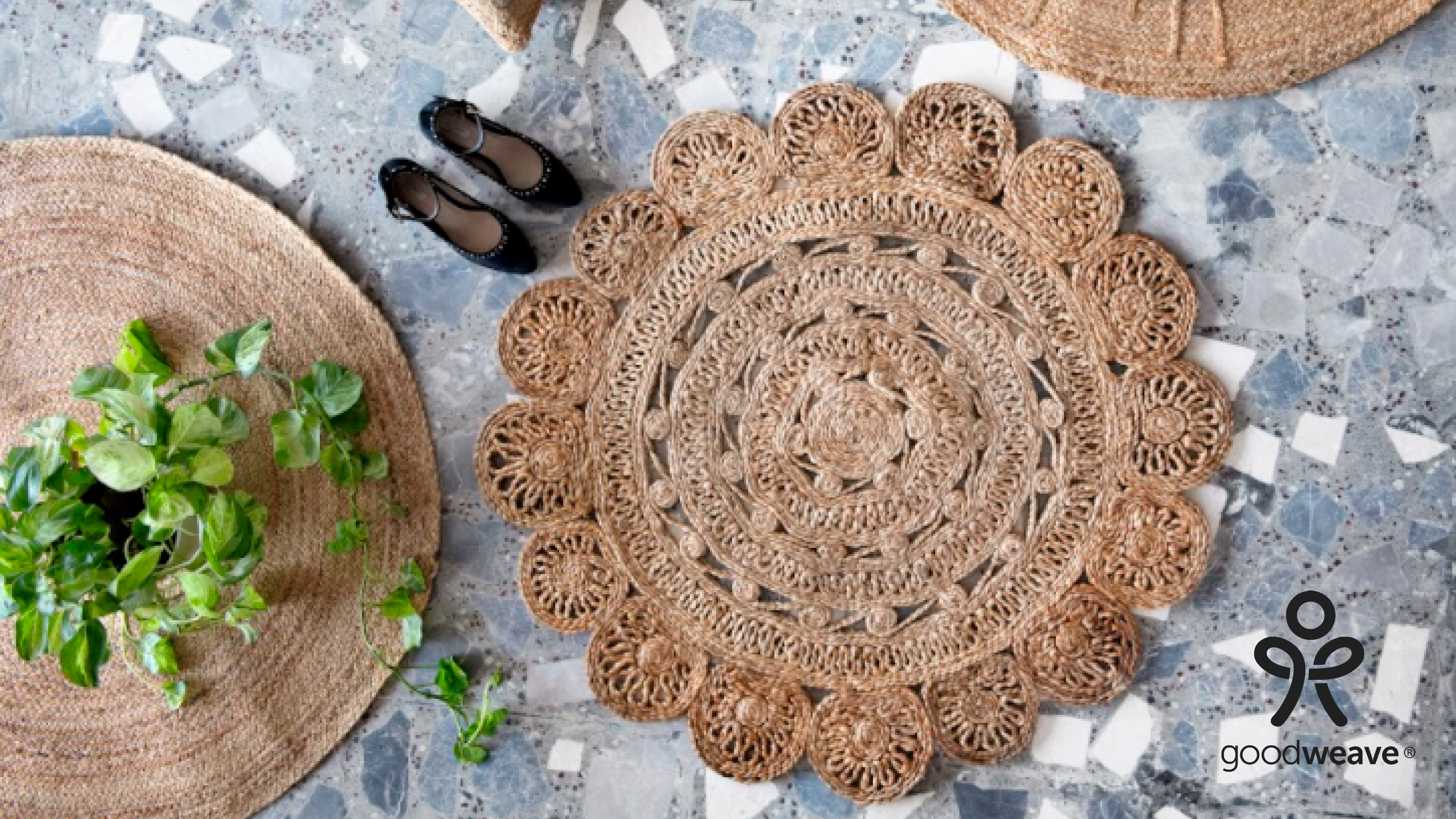 Each new partner company expands GoodWeave's ability to advance its mission of stopping child labor in global supply chains, and help the rug and home textile sectors stamp out all forms of worker exploitation.
The new importer companies and retailers pledging to bring ethically sourced products to more consumers includes GoodWeave's first Japanese partner, Jensin Okunishi Studio, Australia's Upcycle Studio and Rugs for Good, Mulberi from New Zealand, United Kingdom's Niki Jones and US-based Ma Wovens and Casa Amarosa. All the new partners are led by visionary people who believe in GoodWeave's market-based and holistic approach to reducing child labor in their supply chains.
"We are thrilled to welcome these new partners to the GoodWeave family. Each of these companies shares our values and helps expand GoodWeave's reach to new markets around the world by importing GoodWeave certified products to countries including the United States, United Kingdom, Australia, New Zealand and Japan," says GoodWeave's vice president of international business development, Scott Welker.
With the addition of these companies, GoodWeave's roster of licensed importers and retailers tops 175. Rugs or home textiles carrying the GoodWeave certification label sold by these companies means that no child, forced or bonded labor was used in the making of the product, and that purchases support programs that educate children and ensure decent work for adults. Read about each company and the certified products they are selling:
Casa Amarosa – certified rugs
For Nirali Guzman, founder and president of Casa Amarosa, who grew up in India, the reality of child labor around her had an effect on her earliest business decisions. "It makes you realize what kind of impact you can actually have when you purchase a product," says Nirali. She says her company's global aesthetic goes hand-in-hand with her reverence for the artisans whose craftsmanship creates her rugs.
Jensin Okunishi Studio – certified rugs
For Jensin Okunishi, founder and creative director of Jensin Okunishi Studio, the value of handcrafted rugs is in the stories each tells of the individual weavers and of the individual family who might own the rug and hand it down to the next generation. "There is just so much labor and love put into them. Respect for the artisans who craft the rugs must be front and center," says Jensin.
Ma Wovens – certified yoga mats/ritual rugs
Ma Wovens Founder Kelly Peyton has always felt that traditional crafts and craftspeople must be valued and protected. "Working with GoodWeave just gives us peace of mind," Kelly says. She believes her buyers are looking for transparency, sustainability and simplicity; they, like her, respect handmade goods and their makers.
Mulberi – certified rugs
David Heath and his brother Ben, co-owners of New Zealand-based Mulberi, grew up in the business their grandfather founded and where David's three sons now also work. For David, family also includes every member of the Mulberi team all the way down the supply chain. "We look after the people in the company here in New Zealand and we want to make sure our suppliers are looking after theirs," David says.
Niki Jones – certified rugs
"Having the GoodWeave certification," says Niki Jones, founder and creative director of Glasgow-based Niki Jones, "is a way of separating ourselves from those who pretend they are helping from those who are not." Her design conscious clients, she says, not only are looking for longevity in their purchases, but more and more, for products that are made responsibly.
Rugs for Good – certified rugs
The process of rug making must have a positive and lasting effect on the lives of the weavers and their families, says Jessica Kulakowski, founder of the Australian-based company that produces hand-knotted wool and bamboo silk carpets. "I want people who buy the rugs to understand there is a person with amazing skills behind each of our rugs."
Upcycle Studio – certified rugs and pillows
Australian couple Sommer and Scott Carson, owners of Upcycle Studio, make rugs from found bits of discarded fabrics produced in far-flung villages. The rugs, they say, bring together thousands of stories to make one new beautiful piece of art. "With GoodWeave we know where everything is coming from and that the rugs are helping other families in another part of the world," Sommer and Scott say.
About GoodWeave International
GoodWeave — a nonprofit organization founded in 1994 by Nobel laureate Kailash Satyarthi — is the leading global institution working to stop child labor in global supply chains through a market-based system and holistic approach. We bring visibility to global supply chains; protect informal and marginalized workers; provide assurance that products are free of child, forced and bonded labor; and restore childhood to vulnerable children. Look for the GoodWeave® certification label on select products.
Media Contact
Micaela Vivero
202-234-9050 ext. 306
PressUS@goodweave.org