New Soft Furnishings Certification Scheme Unlocks Ethical Supply Chains
June 14, 2019
GoodWeave International, the leading global organisation ending child labour in supply chains, has launched a new labelling standard to address the issue of child exploitation in retail production of woven items for the home. Developed and tested over the last two years by the award-winning non-profit, the GoodWeave Home Textiles Certification both identifies labour exploitation and provides life-changing education to those children found. GoodWeave is acclaimed for its work in reducing child labour in the rug industry and respecting the rights of marginalised workers.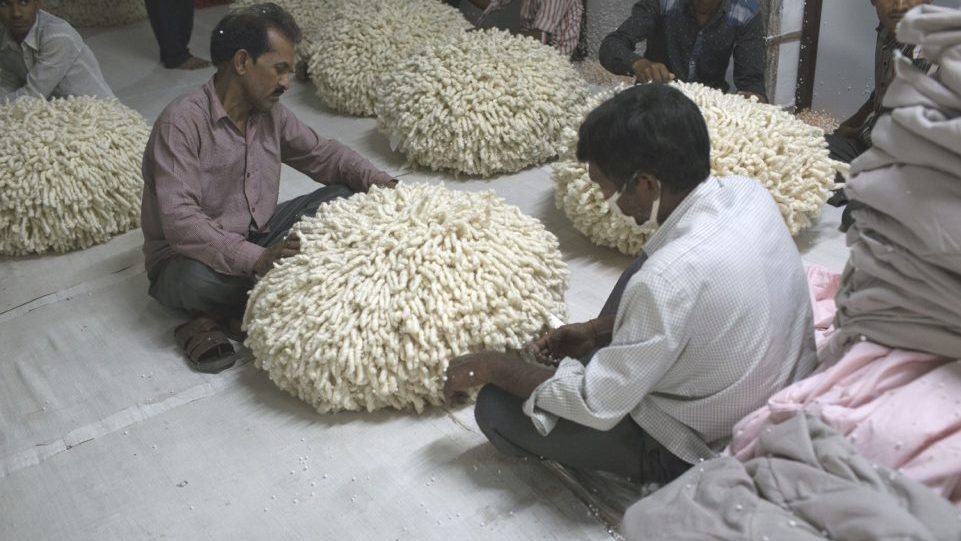 All products certified, such as cushion covers, pouffes and table covers, will feature a unique, GoodWeave numbered label. The first companies in the UK to sign up are Namaste (namaste-uk.com) and Myakka (myakka.co.uk). The scheme is initially available to all companies which import woven soft furnishings direct from India and will soon commence for similar products from Nepal. The scheme operates under a license agreement.
The UK Modern Slavery Act 2015 places the responsibility on retailers and importers to ensure their manufacturing supply chains are free of child labour and exploitation. However, for goods such as home textiles, which typically are sub-contracted out to numerous small workshops and home workers and are often therefore invisible to normal supply chain audits, verification has previously proved virtually impossible.
The GoodWeave certification scheme marries up a retailer or importer with its suppliers, binding them within a license framework and adherence to the GoodWeave International Standard. The scheme creates a unique map of the manufacturing supply chain, by product. GoodWeave then carries out audits and unannounced inspections, at all levels of production, including homeworkers. For the retailer or importer, this gives them the assurances they need, whilst the manufacturer understands compliance with the Standard is linked to future orders.
Rachel Brummitt, Director, Namaste-UK Ltd explains why the company is pleased to be part of the Scheme: "It's a natural progression for Namaste to expand on the labelling standard provided by GoodWeave. By partnering with GoodWeave on rug certification, we've enjoyed the peace of mind provided by the scheme's supply chain transparency and product traceability.
As an important part of our company ethos, it's essential we have confidence in the provenance of our goods, for us, our client base and of course the workers in the source country. Knowing that inspections and monitoring are in the hands of a recognised, trusted and independent body, gives authenticity on the highest scale. We're pleased to add more products to this level of validation through the new Home Textiles Certification Scheme."
In 2016 GoodWeave launched its Sourcing Freedom initiative to expand adoption of its child-labour-free certification scheme from the rugs industry to new sectors. Home textiles is the latest sector to go live.
Media Contacts
Fay Handley, GoodWeave UK
+44 (0)844 243 7838
fay@goodweave.org
Bruce Moats, Chief Communications & Impact Officer
+1 202 234 9050
bruce@goodweave.org
About GoodWeave International 
GoodWeave, the nonprofit organisation founded in 1994 by Nobel laureate Kailash Satyarthi, is the leading global institution with a mission to end child labour, and forced and bonded labour in global supply chains, through a market-based holistic and authentic system. It brings visibility to global supply chains, respects the rights of workers, provides assurance that certified products are free of child labour, and restores childhood to vulnerable children so they can laugh, learn, and play.  Look for the GoodWeave label.