Nina Smith, founding CEO of GoodWeave International, named to JWFNY Collective
May 10, 2022
WASHINGTON, May 10, 2022 – Nina Smith, founding CEO of GoodWeave International, was recently named one of ten Jewish women social entrepreneurs selected to the fourth cohort of the Jewish Women's Foundation of New York (JWFNY) Collective.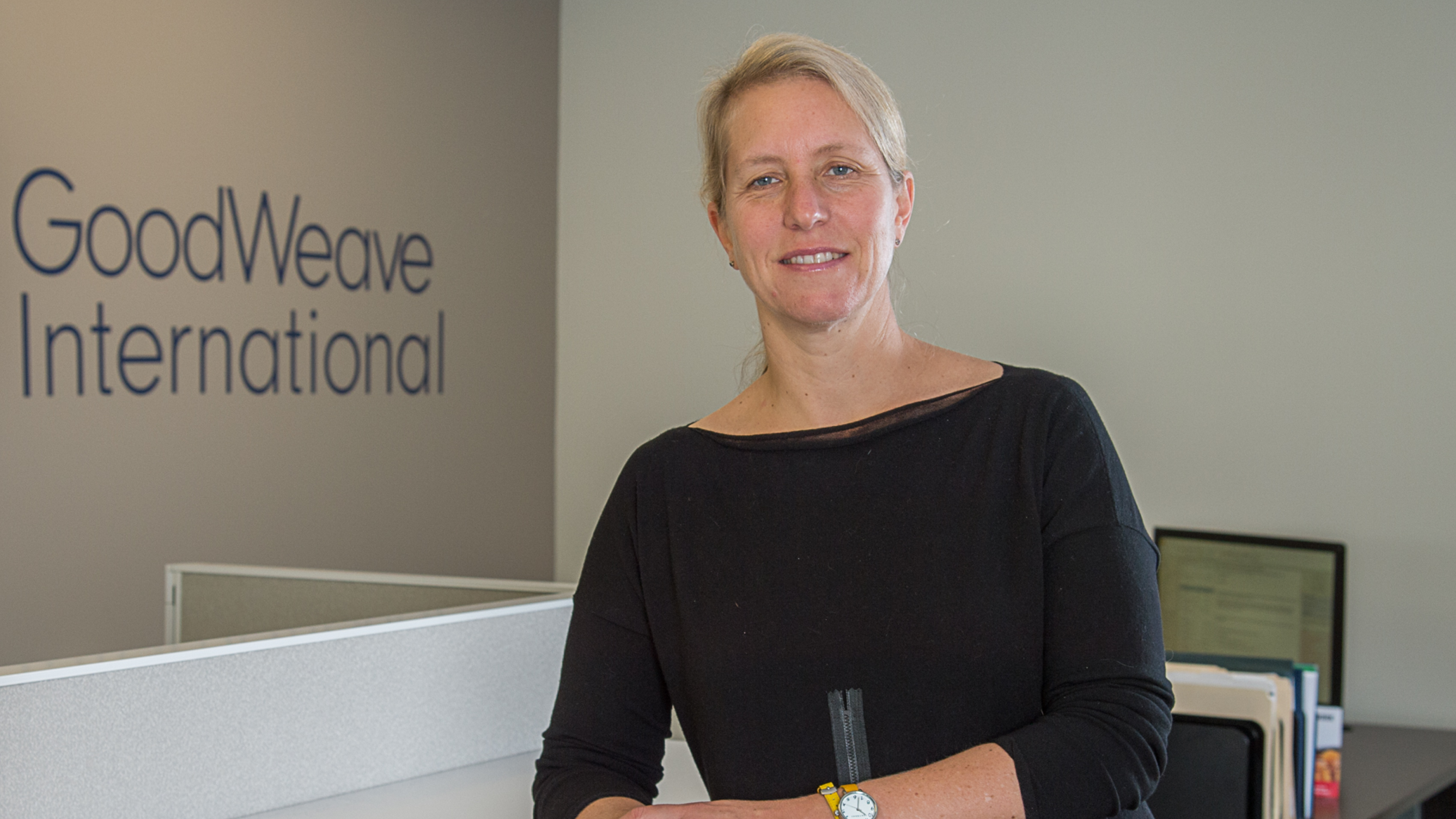 The Collective — established in 2019 — is an incubator for Jewish women change makers using a Jewish and gender lens to address critical societal needs and issues, both existing and emerging, with the innovation and determination to make meaningful systemic change and inspire others. 
A longtime advocate for children's rights and an authority on labor violations in the manufacturing industry, Smith established and built GoodWeave International alongside the organization's founder, Nobel Peace Prize laureate Kailash Satyarthi, to end child labor in global supply chains. GoodWeave brings visibility to workers, restores childhoods, and raises consumer and business awareness of exploitation taking place in formal and informal, subcontracted supply chains so that better purchasing decisions can be made. 
Members of The Collective receive two years of capacity building and general operating support; professional development funding; and immersive study of leadership and organizational growth. In addition, they have access to a formal and dynamic network of Jewish women visionaries and philanthropists for idea exchanges, support and collaboration, as well as a prominent platform to raise awareness of their work, issue areas and impact. 
"I'm honored to be named to this year's Collective and look forward to learning and growing professionally with other cohort members, as well as collaborating with other Jewish women leaders. This is a wonderful opportunity and I am very grateful to JWFNY for recognizing my work over the past 20-plus years and the positive impact GoodWeave's programs have had on tens of thousands of children in South Asia," said Smith.
The ten members of the fourth cohort of The Collective were selected from a pool of nearly 350 social entrepreneurs after a rigorous vetting and interview process by JWFNY's visionary philanthropists and activists. JWFNY focused on identifying extraordinary women leading organizations to create social and economic change in a broad range of populations and geographies. 
"These are visionary Jewish women social entrepreneurs and leaders with creative approaches and innovative solutions to historically intractable societal challenges and inequities that demand new approaches and new thinking," said Rachel Weinstein, President of JWFNY. 
Smith previously received the Tufts University Alumni Award for Active Citizenship and Public Service, the Skoll Award for Social Entrepreneurship, the Schwab Foundation Award for Social Entrepreneurs, and the Center for Nonprofit Advancement's EXCEL Award for excellence in chief executive leadership. Currently, she sits on the boards of the Fair Labor Association and the Better Buying Institute, and is a frequent speaker at global forums on child and human rights in supply chains.
About GoodWeave International
GoodWeave, founded in 1994, is the leading global nonprofit working to stop child labor in global supply chains through a market-based system and holistic approach. We bring visibility to global supply chains; protect informal and marginalized workers; provide assurance that products are free of child, forced and bonded labor; and restore childhood to vulnerable children. Look for the GoodWeave® certification label on select products. 
Media Contact
Micaela Vivero
202-234-9050 ext. 306
PressUS@goodweave.org