CERTIFICATION DIVISION
The integrity of our standards depends on a dedicated team of inspectors based in the countries where we operate—India, Nepal, and Afghanistan—who regularly visit our licensed manufacturers on a surprise, random basis. GoodWeave International's Certification Division (GWI-CD) coordinates and oversees this team of inspectors, evaluates their findings, and implements the certification program that is at the heart of our work.
---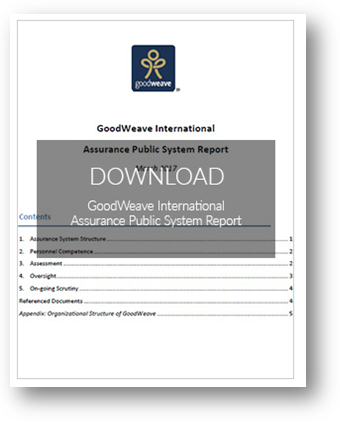 To learn more about how GWI-CD operates—including the stipulations behind our licensing and certification policies, as well as information regarding fees, appeals, and confidentiality—click on the links below.
To view more policies and procedures of GWI, please click here. Information on companies licensed by GoodWeave is available on country websites (see Where We Work) and Operator List for Afghanistan. Also available online is the list of De-licensed Companies (Excel).
GWI-CD Personnel
---
Mathew John P.
GWI-CD Director
Tel: 91-8004925614,
Tel/Fax: 91-542-2201172
Email: Mathew@GoodWeave.net
John Chandapillai
Liaison and Communications Manager
Tel:+91-8004927787,
Tel/Fax: +91-542-2201172
Email: John@GoodWeave.net
Certification Division Committees
The Certification Committee is responsible for decision-making on licensing and certification. The Oversight Committee safeguards the impartiality of the certification program.
Approved inspection personnel
Nepal

India

Afghanistan

Samjhana Pradhan
(IMC Program Officer)
Bahadure Sherpa
Drona P. Adhikari
Jyoti Raj Nepal
Hem Moktan
Ram Kumar Tamang
Bina Mishra
Obhar Dhan Tamang

Avtar Singh Rana
(Supply Chain Manager)
Chandra Prakash Sharma
Neetu Pundhir
Minakshi Bajaj
Narendra Singh
Jawed Ahmed
Vinti Singal
Vinai Kant
Rashid Raza
Sunil Chaurasia
Abhishek Singh
Abhishek Sisodiya
Deepak Kumar
Dushyant Kumar
Kritika Srivastava
Pankaj Kumar
Prakash Chandra Pandey
Pankaj Kumar Singh
Relansi Gupta
Rohit Aggarwal
Shourya Roy
Tsering Diskit
Santosh Nair

Arifa Erkin
Palwasha Khan
Ruqia Kohestani