Uncovering and Eradicating Child Labour in Hidden Supply Chains
September 29, 2020
Hem Moktan is my colleague at GoodWeave in Nepal where he manages educational programming and care of former child labourers and children at-risk of exploitation. Hem rescued some of these same children from labour in his previous role as a supply chain inspection officer for GoodWeave. As a former child labourer himself, this work is deeply personal to him.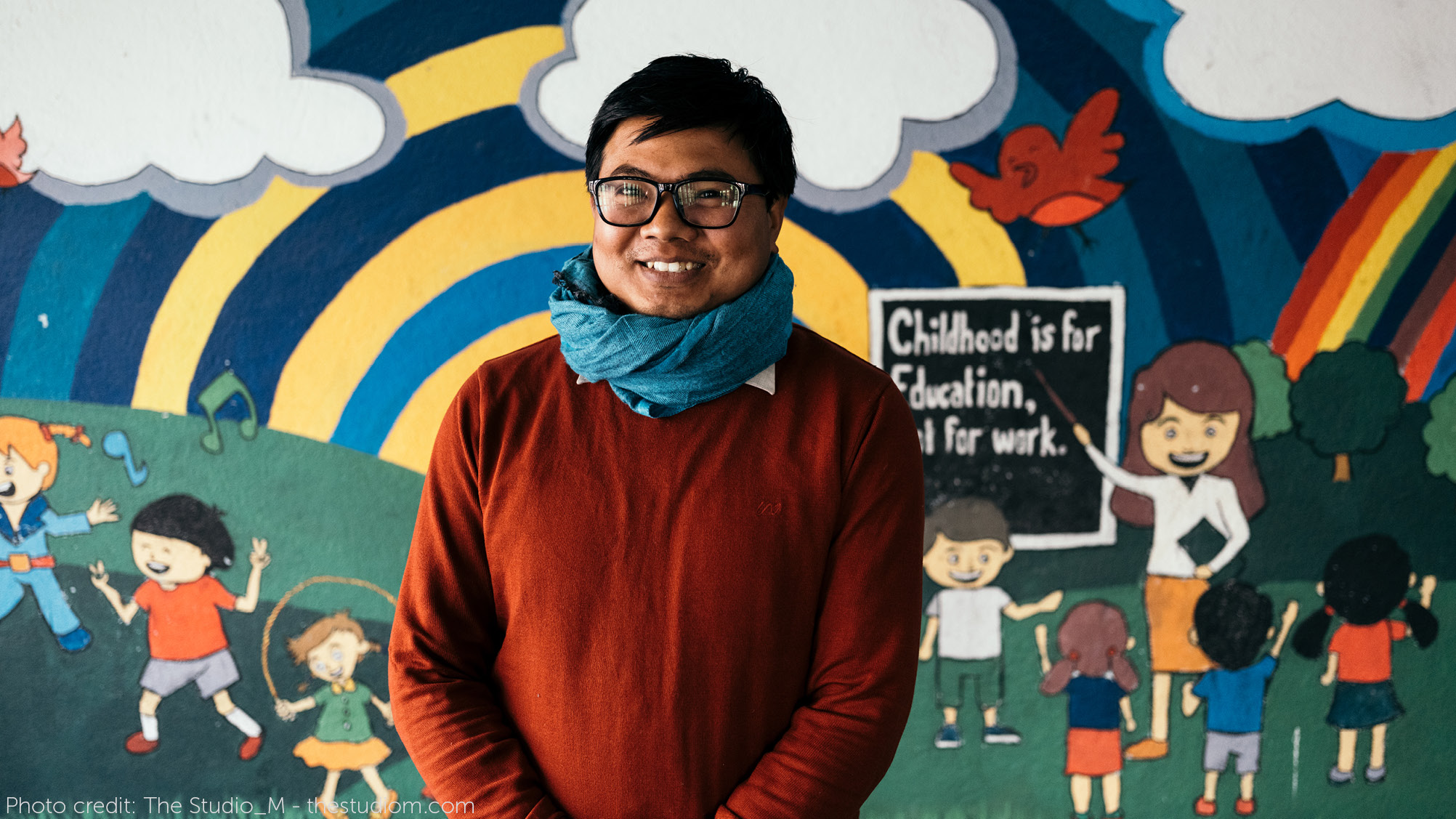 Hem Moktan, at Hamro Ghar, GoodWeave's transit home for rescued child laborers in Kathmandu
This article was written by GoodWeave Monitoring, Evaluation and Learning Officer Dan Karlin and first appeared on Delta 8.7's The Path to 2025: Lessons from Efforts to Combat Child Labour symposium on Sep. 29, 2020.
He lost three years of his own education and freedom when a labour broker promised his father that Hem would have food, clothing and a salary, and then took him to work in a Kathmandu carpet factory. Hem worked on the looms from age 10-13, where he endured beatings, hunger and ridicule. In three years, he earned just 3,000 rupees—the equivalent of 45 US dollars.
Hem describes these as the years "when I was lost". Despite starting kindergarten at age 13, Hem quickly progressed in his studies and graduated high school on time, with counseling and educational support from GoodWeave. He completed an undergraduate degree, then a Master's degree, and is now pursuing his Ph.D. His escape from exploitation became possible when a US company decided to partner with GoodWeave to ensure its production was free from child labour. The choice this company made—to open up its full supply chain to GoodWeave's unannounced, random inspections for child, forced and bonded labour—unveiled a hidden workforce where Hem had, until that moment, toiled in obscurity for three years. For every one of the 7,646 children like Hem that GoodWeave has rescued, there are nearly 20,000 more child labourers worldwide. But what can we do about it? Addressing this tragic situation begins with understanding why it persists.
The GoodWeave Approach
According to the International Labour Organization (ILO), there are 152 million child labourers in the world. However, to find them and restore their childhoods, we need to know where to look. Over the past 25 years, GoodWeave has found thousands of child labourers like Hem toiling in hidden, outsourced, informal supply chains, comprised of complex networks of production sites, often unmarked with no official address. This is particularly true in the production of textiles, such as carpets, which require significant hand-work—from the processing and preparation of raw material to the finishing and washing processes. Prior to its export, a handmade carpet may have travelled from a weaver's home to subcontractor sites to a finishing facility. One carpet exporter may have a supplier network of hundreds of subcontractor and home-based production sites that an overseas buyer will never see. These invisible networks often teem with child labourers.
Read the rest of the article on Delta 8.7
This article was originally published on United Nations University's knowledge platform on modern slavery, human trafficking, forced labour and child labour. The views expressed herein are those of the author and do not necessarily reflect the views of the United Nations University.