Maya: Overcoming adversity and making a new life with GoodWeave's support
October 22, 2022
GoodWeave's holistic program to stop child labor in global supply chains integrates a unique focus on the rehabilitation of child labor survivors like Maya, now an ambitious 12th grader at the prestigious Laboratory (Lab) School in Kathmandu – one of GoodWeave's partner schools.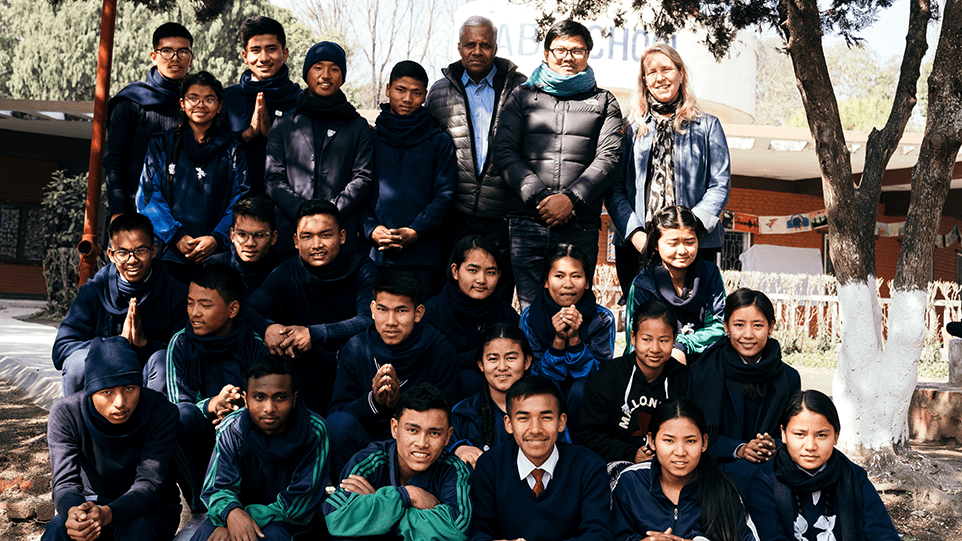 Photo caption: Maya (second row, first on the right) at the Lab School with classmates also supported by GoodWeave. 
Born in a village in south eastern Nepal, Maya's childhood was not easy. She performed household chores and tended livestock from a very young age to help her family. Poverty and other family challenges led to Maya's mother abandoning the family, and her father was not able to care for Maya and her brother. Then more tragedy struck when her brother passed away, leaving Maya helpless and alone. 
When Maya's father became sick, her only option was to work in a carpet factory in Kathmandu to earn money necessary for his treatment. She was only eight years old. Her uncle received an advance from a "thekedar" (contractor or broker) in exchange for bringing his young niece to a carpet factory. He kept all of the money and Maya was forced to work in debt bondage for three years. Maya remembers those days as the most bitter time in her life when she had no hope. Then a GoodWeave inspector identified Maya working at the carpet loom and offered her the opportunity to go to school and live at a very special place called Hamro Ghar (Our Home), GoodWeave's home for children who are freed from exploitation.
Children like Maya, who have been subjected to such extreme hardship and abuse, are treated with the utmost care and respect. In accordance with GoodWeave's policies, they are given time to heal and a voice in the development of their rehabilitation plan in cooperation with a GoodWeave counselor and their family or guardian. These survivor-informed policies give children a voice in shaping their rehabilitation plan, and prioritize reuniting children with their families whenever possible. Ongoing support and counseling ensure survivors are in school and not working.
But some kids, like Maya, have nowhere safe to go. These children may choose to enroll in center-based rehabilitation where they receive food, shelter, education and a home.  Maya chose this option, and after an intensive period of schooling to achieve an age-appropriate learning level at Hamro Ghar, she was accepted into the Lab School in grade five. She continues to heal, learn and thrive, and hopes her next step is to pursue a degree in information technology. According to Maya, her education is central to her future in many ways. She recently shared, "I can be [an] activist for child and women's rights," in addition to pursuing work in the information technology field. We look forward to seeing Maya further blossom and pursue her dreams.
Since its inception, GoodWeave has ensured freedom for more than 9,400 children and provided educational opportunities to nearly 45,000 children. To learn more, check out some of our short videos.
Photo credit: The Studio_M – thestudiom.com