Promote Best Practices
Our 25-plus years of experience in the carpet sector have yielded a holistic system that leverages consumer choices, as well as business and community partnerships toward the ultimate goal of freeing children from bondage — giving them a chance to lead normal lives filled with school, play and family. With the GoodWeave System, tested and proven as an effective model for combating child labor, we are expanding our reach by focusing on capacity-building efforts and promoting best practices. We know that to achieve our mission of stopping child labor permanently, we must accelerate efforts, create partnerships, and spur the uptake of our successful model in new sectors and geographies.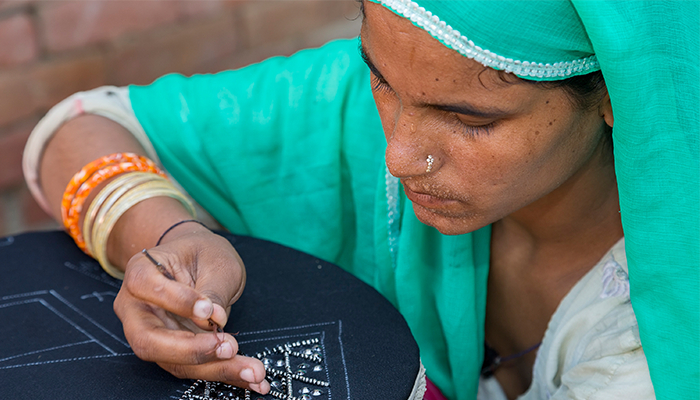 Expansion to New Sectors and Regions
Building on our experience in carpets, in recent years GoodWeave expanded to new sectors, including home textiles and apparel. Home textiles and apparel are now part of GoodWeave's core work and we apply our International Standard within these supply chains in South Asia. With a goal of continuing to share our model and expand reach, we have worked in two additional sectors: brick-making in Nepal, and the tea industry in India.
Capacity Building Unit
GoodWeave's Capacity Building Unit (CBU) aims to transfer and imbed best practices from the GoodWeave System to other organizations, multiplying the impact for children and communities. In collaboration with partners, such as nongovernmental organizations (NGOs) and companies, we train stakeholders to adapt and apply elements of our model. We're actively seeking partners who want to build on our proven success — and amplify it. Read more below about our expansion and capacity-building work in apparel, bricks and tea. Resources, such as our best practice briefs, workers' rights videos, and other products, are available free of charge to stakeholders committed to ending child and forced labor. For questions about partnering and training on the GoodWeave System, email CapacityBuilding@goodweave.org.
APPAREL

With fast growing due diligence legislation requirements from governments across the world and pressure from consumers to know where their clothes are made, apparel companies are exceedingly focused on transparency and traceability. GoodWeave has applied its proven model refined over the last 25+ years in rugs and carpets to the apparel industry to help companies move their supply chains closer to child and forced labor free sourcing. Through a unique program that links tier one audit systems to GoodWeave's deep supply chain due diligence, remediation and prevention process, brands and retailers can identify issues in production and put in place measures that ensure supply chains are free of all forms of worker exploitation. The end-result is a high level of assurance against child labor, protection for thousands of apparel workers, and education for their children — the best form of prevention.

In the midst of the COVID-19 pandemic, GoodWeave launched a pilot in Bangladesh's ready-made garment sector that applies GoodWeave's deep supply chain due diligence methodology through a local partner. The project is funded by the Vulnerable Supply Chains Facility (VSCF), a rapid COVID-19 response fund set up by the UK Foreign, Commonwealth and Development Office (FCDO), and managed by Mott MacDonald Ltd. 
BRICKS

Started as a pilot in Nepal, the Better Bricks program is working to eliminate child, forced and bonded labor in brick kilns through an incentive-based system linked to market demand for ethically produced bricks. Kiln owners who agree to the strict Better Brick Standard receive assistance that can improve their efficiency, motivating them to respect workers' rights and adhere to the standard's meaningful principles on child labor, forced and bonded labor, wages, working conditions, and humane treatment. The program is raising awareness of the issue and advocating for change, while also addressing underlying factors that drive worker exploitation. Better Brick Nepal is a collaboration of Nepali NGOs, progressive brick kilns, the Government of Nepal, Global Fairness Initiative and GoodWeave, and is supported by Humanity United.
TEA

In 2016, GoodWeave partnered and carried out capacity-building activities with the Rainforest Alliance, in the production of tea in Assam, India. The program objectives were two-fold: adapting and applying elements of the GoodWeave System in a new sector (tea); while building the capacity of external partners to adopt our model.