Stakeholder Input
GoodWeave is ISEAL Code Compliant. Our system has been independently evaluated against ISEAL's Codes of Good Practice – a globally-recognized framework for effective, credible sustainability systems.
As part of this compliance, GoodWeave invites stakeholders to provide input and feedback to audits and inspections, and to the larger certification system by:
Audits and Inspections
GoodWeave Certification System

Interviews conducted at worksites
Interviews conducted with community members surrounding and/or supplying the facilities
Interviews with family members of children and workers

Dispute resolution (formerly called Complaints and Appeals) (See "Dispute Resolution Procedure" below)
Open mechanism for submission of feedback on our website (see "Comments and Questions" below)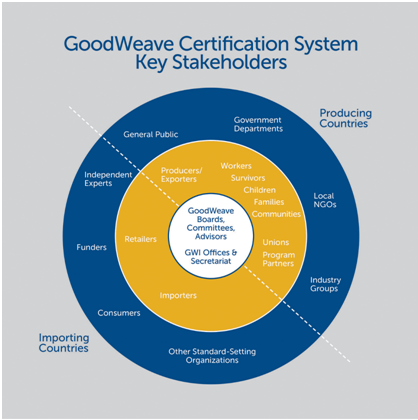 GoodWeave Dispute Resolution Procedure
The GoodWeave Dispute Resolution procedure provides a mechanism for stakeholders to voice their complaints and concerns; hear and resolve those complaints or disputes; and assure the integrity of the GoodWeave mission – to stop child labor in global supply chains. Permanently.
The dispute resolution procedure is open to anyone who has a dispute against the GoodWeave Certification Division and/or GoodWeave's social programming.
To submit a complaint or appeal, please fill out this form.
Disputes Submitted in 2022:
| Type of Dispute | Country | Number |
| --- | --- | --- |
| Complaints | India | 2 |
| Appeal | India | 1 |
| Total | | 3 |
Comments and Questions
GoodWeave's policies and procedures are available for public review and comment. To submit feedback, comments or questions, please email: Comments@GoodWeave.org.
Additional information is available to interested parties upon request.